In modern automobile manufacturing, robotic welding is an important welding process in automotive production lines. With the rapid development of laser welding technology, many automobile manufacturers at home and abroad began to replace traditional robot resistance spot welding technology with robot laser welding on the production line. Compared with the traditional welding method, laser welding has many unique advantages: fast welding speed up to 20m/min; low welding deformation and high welding precision; high quality of welding joint metallurgy, improving the fatigue resistance and impact resistance of the vehicle body Corrosion resistance, body stiffness increased by 30%; improved body sealability, reduced noise by 30%; single-sided welding, small solder joint size, reserved weld edge is small.

Laser welding robot workstation

The computer simulation software is used to simulate the actual seat back welding robot system of a foreign model to avoid damage and reduce the risk. The software's standard automatic collision detection function allows the user to generate multiple collisions and close queues to avoid collision. The software also includes an automatic path planner that generates the trajectory of the collision avoidance robot.

The welding robot workstation is divided into the following nine parts:

(1) Welding robot system ABB: IRB 2400-16.
(2) Laser welding equipment TRUMPF: laser generator, cooling system and laser head.
(3) A set of MTC 750 active end + bracket for the displacement system.
(4) Welding room monitoring system camera, display, control system, with cloud platform.
(5) Touch screen console The console consists of a touch screen, a suspension arm, an operation box, an industrial computer display mount and a monitor display mount.
(6) Welding fixture backrest, left side panel, right side panel fixture bracket (for placing three sets of fixtures Jig Base, see Figure 1).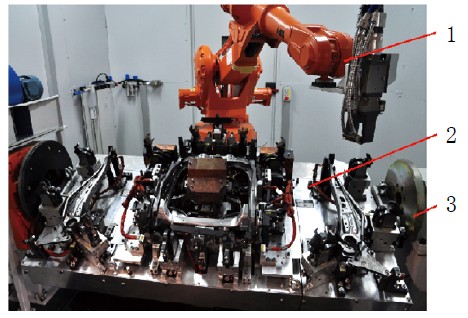 Figure 1 Welding robot workstation 1. Welding robot 2. Seat back clamp assembly 3. Positioner

(7) Electronic control system PLC control system + bus light curtain + three color lights + cable + low voltage electrical + sensor + fixture connector + station lighting + protection parts + Ethernet module + hands to start the console.
(8) Welding work room? Laser room, safety light curtain, safety door, TEKA dust removal system and compressed air treatment system.
(9) Marking equipment is shown in Figure 2.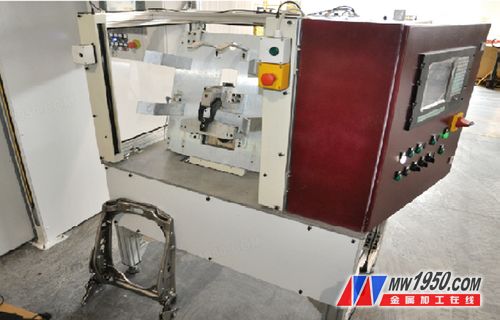 Figure 2 Marking equipment
The overall layout is shown in Figure 3.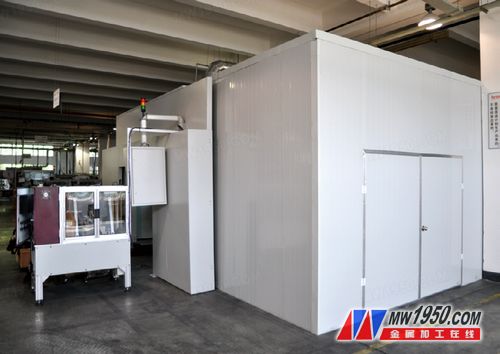 image 3
Product categorie of Die Casting Auto Parts, we are specialized manufacturer in producing Auto Part, offer Auto parts R & D and manufacturing, we have the perfect after-sales service and technical support. Look forward to your cooperation!
Die casting Auto Parts
We are professional manufacture for Die casting Auto Parts, Die casting Auto Parts, lamp part series, water pump part series, power tool series, radiator part series, anti-static flooring products and Other Series Products, we have factory in Ningbo.

1. Quality assured, Passed ISO9001 & ISO/TS 16949
2. Product range:Aluminum Die Casting for communications, Aluminum Die Casting for auto parts,lamp part series, Water Pump Part Series, power tool series, radiator part series, anti-static flooring products and other series products.
3. Process: Die casting, Deburring, Drilling holes, Tapping, CNC Machining , shot blasting and Assembly.
4. Die Casting Machine: 88T, 180T, 280T, 420T, 800T, 1650T,3000T( full automatic with robot)
| | |
| --- | --- |
| | |
| High precision 4-pillar spotting machine | Double-table CNC machining center |
Our Advantages:
1) Experience in die casting for over 10 years and served customers all around the world.
2) More than 200 professional and hard working employees pursue a wonderful career.
3) International advanced-level equipment such as CNC, numerical lathes, furnance, welding equipment, CMM and detect &testing equipment we used to ensure our product`s(Aluminium Die Casting for Auto parts) quality.
4) OEM service, you demand is our pursued.
5) ISO quality control
6) Standard: ASTM BS JIN DIN etc
7) Applied software for specification drawings: Pro/E, Auto CAD, Solid work, CAXA, UG. Etc.
We will conform the spirit of "lasting improvement and eternal pursuit of quality", adhering to the concept "only professional, only refined, long-term cooperation, to achieve win-win". We`ll always create better Aluminum Die Casting for Auto parts, value-added services, to return new and old customers! Welcome to visit our company!
Die Casting Auto Parts
Die Casting Auto Parts,Gearbox Housing,Engine Parts
Ningbo Bowang Machinery Co.,Ltd , http://en.zjbwjx.com