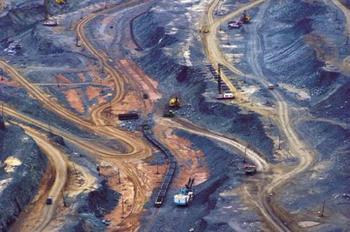 Since the "Outline for Strategic Action for Ore Prospecting (2011-2020)" was reviewed and approved by the State Council Executive Meeting, a new round of prospecting for geological prospecting has been set off in the past three years. In 2011 and 2012, the national investment in geological exploration reached 111.8 billion yuan and 120 billion yuan respectively, of which solid mineral exploration investment was 44.3 billion yuan and 47.3 billion yuan respectively, and oil, natural gas, tungsten, molybdenum, nickel, etc. were found. A major breakthrough in the mine discovered a number of deposits with world-class reserves, and the exploration results exceeded expectations.
In terms of oil and gas resources exploration, China's newly added petroleum geological reserves amounted to 1.521 billion tons in 2012, the second peak year in history; the newly added natural gas (including coal bed methane) reserves reached 961.2 billion cubic meters, which was the highest in the calendar year. New breakthroughs have also been made in coal exploration. A number of large-scale super-large coal mines have been added in Xinjiang and Shanxi, and new discoveries have been made in coal-mining provinces such as Fujian. At the same time, an ultra-large sandstone type* ore (Daying* ore) was identified in the Ordos Basin, and a number of prospecting targets were prospectively verified in other northern basins, which is expected to reshape the prospecting and development pattern in China.
In recent years, China has also made a number of world-class discoveries in the field of metal mineral exploration. In the northern Hebei Province, the tungsten mineral resources reserve was 1.06 million tons, of which the Dahutang tungsten mine with economically recoverable reserves of 830,000 tons was the largest tungsten deposit in the world; 3 super-large molybdenum deposits and 2 super-large nickel deposits were newly discovered. The mine, of which Xinjiang's north-north large-scale nickel ore reserves exceed 2 million tons, is second only to China's largest Jinchuan nickel ore. The exploration of emerging material resources has also made great progress. New batches of large-scale and above-scale mineral deposits such as the Guobaoshan antimony ore and the Yushishan antimony ore in Xinjiang, and the Karluian spodumene deposit in Xinjiang were newly discovered.
At the same time, China has achieved remarkable results in the conservation and comprehensive utilization of mineral resources. Through the initiation of the construction of 40 comprehensive utilization demonstration bases, a number of advanced and applicable technologies, processes, and equipment have been promoted. In the two years, 44.21 million tons of oil resources, 56 million tons of coal resources, 20 million tons of iron ore, and copper ore have been cumulatively used to revitalize oil resources. 2.2 million tons, 500,000 tons of bauxite ore, 93 million tons of low- and medium-grade phosphate ore, 4.5 million tons of low-grade gold ore, and "triple ratio" of key minerals such as coal, copper, iron, and phosphorus In 2010, it increased by 0.5%-1%.
Longneng demolition hammer quality is top in the china.The 608 bearing is C&U.The power is very high.The speed also would be more quickly.
Longneng demolition breaker use easy changing chuck to make work easy and fast.
In the future,we will have magnetic motor demolition hammers.Hope more customer will visit our website and inquiry ours products.
We will give you more super happy for your working.
LONGNENG Demolition Breakers, LONGNENG Demolition Hammers, Electric Demolition Hammer, LONGNENG Demolition Breaker Hammer
Yongkang Longneng Power Tools CO., LTD. , http://www.longnengtool.com